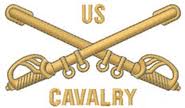 The United States Cavelry is a Red Dead Redemption posse.
About the posse
We are aid on horseback, well skilled shooters who has had a lot of action brought to them in hard battle situations.
We are only on ps3
Joining the posse
It's simple, if we think youre good then we will add you as a friend then allow you into the posse. If you don't want to be on horseback then join our United States Army posse which are infantry.
Leaders
Captain-nightvision11
Lieutenant-Seedy
Other members
Sergeant-Ze_Uber_Soldier
Corporal-mikeminer2009
Specialist-Zell_Franklin
External links