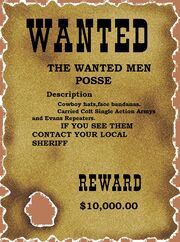 The Wanted Men is a Red Dead Redemption posse.
About the posse
We are a posse for Red Dead Redemption for the Ps3 ONLY!!! We have some regulations for members who want to join. Rule 1: Listen to your posse's leader. Rule 2: Do not turn on your fellow posse members Rule 3: Kill all law men and enemies of The Wanted Men Follow these rules and you will be a Wanted Men in no time.
Joining the posse
To join contact me on my psn WANTEDMAN_1898
Members
WANTEDMAN_1898 awsomejosh_13 USMC_CAPT
Leaders
WANTEDMAN_1898
Ranks
Leader Wantedman Bandit Outlaw Fresh Meat New Comer
External links
Ad blocker interference detected!
Wikia is a free-to-use site that makes money from advertising. We have a modified experience for viewers using ad blockers

Wikia is not accessible if you've made further modifications. Remove the custom ad blocker rule(s) and the page will load as expected.