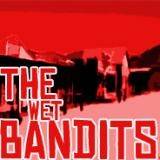 The Wet Bandits is a Red Dead Redemption posse.
About the posse
Starting from a match in Tom Clancy's Rainbow Six Vegas, The Wet Bandits were formed by brothers, DryvBy and Murmaduke. Since then, The Wet Bandits have been gathering a very few select members to join their clan. Now the clan is completely dedicated to causing chaos in the online gaming community on Red Dead Redemption.
Joining the posse
To join, message DryvBy on the PlayStation Network. PSN name is DryvBy,
Members
Leaders
External links
Ad blocker interference detected!
Wikia is a free-to-use site that makes money from advertising. We have a modified experience for viewers using ad blockers

Wikia is not accessible if you've made further modifications. Remove the custom ad blocker rule(s) and the page will load as expected.