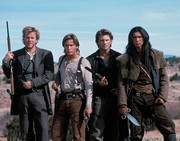 The Young Guns
is a
Red Dead Redemption
posse.
About the posse
Yoohoo! I'll make ya famous. Inspired by the famous Spaghetti Western about Billy The Kid. We ride together as a group and look after each other. We do not respect mindless violence. We enjoy a spot of hunting every now and then. If attacked we will retaliate without remorse or relent. We are The Young Guns. We will finish The Game.
Joining the posse
Contact LUK3-H4LL on PSN and we'll see if you're worthy enough to ride with us.
Members
Leaders
LUK3-H4LL
JSayce1994
CarryOnCraig
Other members
Bob-E-95
kidboss1
marvel012496
midgetslayer666
snookerkid08
pig_mod
RaabergSWE
External links
Ad blocker interference detected!
Wikia is a free-to-use site that makes money from advertising. We have a modified experience for viewers using ad blockers

Wikia is not accessible if you've made further modifications. Remove the custom ad blocker rule(s) and the page will load as expected.