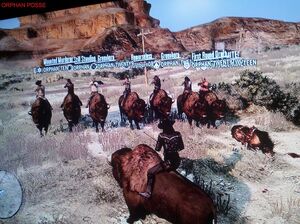 The guys with guns is a Red Dead Redemption posse.
About the posse
Our posse is organizing some hunting hours or
machtin and helping everyone leveling up and get some golden guns
and stuff.
Joining the posse
Joining the posse isn't so hard just email me (Strikkinggino) if u want in the posse

NOTE:must be higher then lvl 1
And u need a ps3 with rdr
If u dont have legends and killers
or liars and cheats it doesn't matter just join
Members
Leaders
Other members
NL-Rene-NL
Member 2
Member 3 etc.
External links
Ad blocker interference detected!
Wikia is a free-to-use site that makes money from advertising. We have a modified experience for viewers using ad blockers

Wikia is not accessible if you've made further modifications. Remove the custom ad blocker rule(s) and the page will load as expected.