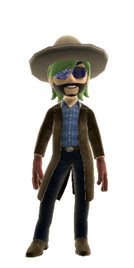 The old swede is a Red Dead Redemption posse.
About the posse
The posse is named by Danny kinda, and well we need members in game and on this site so yeah, and you have to either cattle rustlers or feds.
Joining the posse
If you want to join simply send a message on Xbox live to either Danny The Brute fit7ie if you send it to fit7ie you may not get a response till Saturday night
Members
Leaders
Danny the brute - Sherif Marshal (fit7ie) Craig/Paul - deputies
Other members
None At the Moment
External links
Ad blocker interference detected!
Wikia is a free-to-use site that makes money from advertising. We have a modified experience for viewers using ad blockers

Wikia is not accessible if you've made further modifications. Remove the custom ad blocker rule(s) and the page will load as expected.