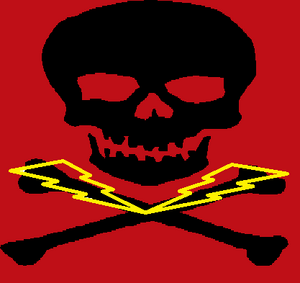 ThunderBolts is a Red Dead Redemption posse.
About the posse
The ThunderBolts are a strict cowboy gang we terrorrize and demoralize all who oppose us we got the name during a grab the bag when our leader was struck by lightning! Also we bring justice to all who thearten anyone (unless ur rlly noobish) and plus were very sneaky. Plus when you join u will be forced apon a team called "Unknown' As time passes on you can be moved to Team Thunder -Team Noob - -Allstars- Team Lengend Unknowns
Leader:WindestLolMan Leader:Bone260 Leader:Madsens Leader:TheDarkMadsens Leader: Cpt Rodburn
Joining the posse
To join The Thunderbolts you must be atleast a LEVEL 15 and be a cowboy. Also you must be able to pass any surprise test i give you. (that wont happen often unless ur bad with guns.) Also there may be other tests. Contact me on xbox live for any questions. -Cpt Rodburn
Members
God
The five chosen ones
The Dark Madsen
Madsens
WindiestLoLman
Bone260
External links
Ad blocker interference detected!
Wikia is a free-to-use site that makes money from advertising. We have a modified experience for viewers using ad blockers

Wikia is not accessible if you've made further modifications. Remove the custom ad blocker rule(s) and the page will load as expected.