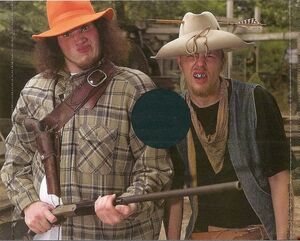 Twiztid Juggalos is a Red Dead Redemption posse.
About the posse
This Is A Red Dead Redemption Posse Dedicated To Juggalos Only! All Juggalos Posse Up On XBLA! WOOT WOOT!
Joining the posse
Juggalo's, Just Send An Email to Lukeahugeltws@yahoo.com or Hit up Gamertag Hakk Benjimin On XBLA with the Message "Whoop Whoo!"
Members
Leaders
Other members
Currently Seeking Members
External links
http://www.facebook.com/pages/Twiztid-Juggalos-RDR-Posse/122124391161185?v=wall
Ad blocker interference detected!
Wikia is a free-to-use site that makes money from advertising. We have a modified experience for viewers using ad blockers

Wikia is not accessible if you've made further modifications. Remove the custom ad blocker rule(s) and the page will load as expected.