"
Outstanding! Glad to meet you soldier, hooah!
"
–U.S. Army 35th Cavalry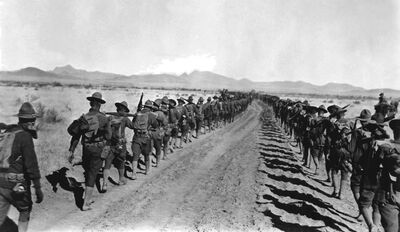 U.S. Army 35th Cavalry is a Red Dead Redemption posse.
Trivia
The 35th Cavalry is the local platoon of the American Army, stationed in West Elizabeth and New Austin.
1st Lieutenant Jan Booth commands the platoon.
The Cavalry is responsible for the internal and external security of the western american border states.
The platoon is outnumbered against the local mexican battalion in Nuevo Paraiso. However, the 35th Cavalry will attack well-directed, suddenly and fatal.
Operations / operational areas
Mexico Expedition :
Internal elimination of criminals :
Individual equipment :
Artillery :
Military bases in the U.S.
West Elizabeth
New Austin:
Military camps
West Elizabeth
New Austin
Joining the posse
Send a mamber a massage (Xbox 360)
Members
External links
http://reddead.wikia.com/wiki/Posse:Batalla_de_Nuevo_Paraiso
Ad blocker interference detected!
Wikia is a free-to-use site that makes money from advertising. We have a modified experience for viewers using ad blockers

Wikia is not accessible if you've made further modifications. Remove the custom ad blocker rule(s) and the page will load as expected.