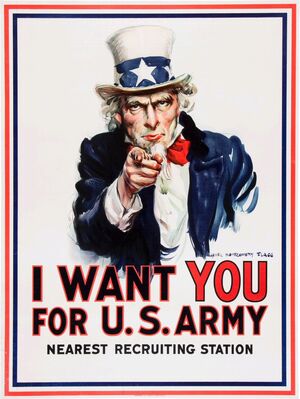 U.S Army est un clan dans Red Dead Redemption.
Description du clan
Si vous recherchez une team sérieuse, cool, disciplinée et ouverte, engagez vous dans la U.S Army. Bon état d'esprit, discipline et respect sont les trois mots d'ordre de la U.S Army (Ne confondez pas la U.S Army et l'armée russe avec discipline et rigueur ) Les dirigeants ont remarqué une forte augmentation du crime dans ses états de l'ouest et souhaite réprimer ces malfrats avec la nouvelle technologie développée ces dernière années(GP, Mauser, Evans, Henry... )
La U.S Army est l'aboutissement de la U.S Company qui a pu déblayer un passage pour l'armée qui doit à présent agir, le temps de la U.S Company est révolu
Dans l'armée, il y a des règles et les voici  :
1)Etre au moins du niveau 15 pour débloquer au moins 3 perso de l'armée américaine car je ne suis pas sur que les joueurs voudront avoir Slick Nick commme perso, si c'est le cas, ok
2)Porter l'uniforme de l'armée américaine exceptions admises que pour certains cas
3)Respect entre les joueurs car je suis d'accord avec vous, RDR immerge hyper bien mais n'ayez pas un comportement de sauvage, gardez ca pour les ces non-civilisés de l'ouest
4)Avoir un micro et bien y parler...
5) Dans l'armée, il y a des grades, les voici:
- Le commandant[le créateur(Genius_97)]
- le capitaine(le plus ouvert et le plus intelligent en combat[pas en math! ]
-Les 2 lieutenants(les plus forts et les plus ouverts)
-Le Sergent(L'homme capable de tout )
-Le caporal(l'homme à tout faire)
-Les soldats(Le reste de l'armée qui représentent fièrement les états-unis)
Tous les joueurs de la U.S Company sont automatiquement rediriger vers la U.S Army
La U.S Army est en collaboration avec Posse:Représentants de la loi
Rejoindre le clan
Pour les nouvelles recrues, merci de remplir ce questionnaire (et de me sur le forum, sur PSN ou sur jeuxvideo.com.
Formulaire
ID PSN: 
Perso: 
Moment(s) de jeux: 
Micro(obligatoire): 
Motivation pour la U.S Army: 


Et pour finir, qui n'a jamais rêver de rejoindre l'armée la plus puissante du monde!

L'Amérique à besoin de vous!
Représentants de la loi
Commandant
Capitaine et recruteur
Lieutenants
Yoshilebeno
PapyP
Sofdnia
Sergents
Caporal
Soldats
Assassin_64
il_fenomeno9
fghjhg
Xtreme84600
nsa-cobra
ToXIc_PiraNhA_14
badreddine_1707
xX-STuV3R34-Xx
codeami10
Spartacus2400
xxluffy
Alex_Ashfold
Wooki12345
Liens Externes
Ad blocker interference detected!
Wikia is a free-to-use site that makes money from advertising. We have a modified experience for viewers using ad blockers

Wikia is not accessible if you've made further modifications. Remove the custom ad blocker rule(s) and the page will load as expected.