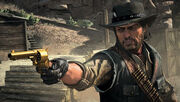 UNDERDOGS is a mercenaries posse in Red Dead Redemption.
About the posse
We are mostly free roam posse but we also do some competitive matches. We are active only on Xbox Live.
On free roam we like to do Outlaw Hideouts and hunt down Legendary animals such as Khan the Jaguar, Lobo the Wolf, Gordo the Boar and Brumas the Bear. We are professional hunters and mercenaries for hire. We will help you hunt down Legendary animals and help you do Outlaw Hideouts in return for Exp. Or sometimes we might just want to go and explore the extraordinary world of red dead redemption. The harder the challenge the more Exp you owe us. We are strong fighters and will never give up, no matter what the circumstances.
We also have our own secret underground posse base with brilliant sniping points, farm animals (including BACON!) , turrets, a bar, accommodation for all loyal members and beautiful scenic views. If any trespassers are spotted within 50 metres of our base WILL BE SHOT ON SIGHT! Do not tell anyone (excluding senior posse members and the leaders closest friends) about our base or you will be excluded from our posse for eternity. You must be in the posse for at least a week before you may access our secret base.
So feel free if you want to join our awesome posse as we are accepting members now!
Members
Here are the members in terms of rank:
Leader:
Vice Leaders:
MASTER PAYNE 01 (Senior)
raqaz1 (Senior)
Members:
xDLukeDx
Webster1982
MasterPayne02
Game Box3r
How to join
If you want to join our posse, please message GalvanicSmile with a message saying 'UNDERDOGS posse invite'. Please don't send any spam or we will block your communications.
XBL Names
Here are the XBL names of the people who are in the posse:
GalvanicSmile
MASTER PAYNE 01
raqaz1
xDLukeDx
Webster1982
MasterPayne02
Game Box3r
Ad blocker interference detected!
Wikia is a free-to-use site that makes money from advertising. We have a modified experience for viewers using ad blockers

Wikia is not accessible if you've made further modifications. Remove the custom ad blocker rule(s) and the page will load as expected.