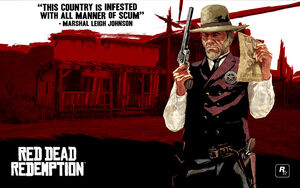 US MARSHALS TASK FORCE is a Red Dead Redemption posse.
About the posse
WE ARE A US MARSHALS CLAN ON XBL WE TAKE DOWN OTHERS CLANS/GANGS THAT TRY TO MESS WITH US. CONTACT USKF SNIPER OR EPIC DSHOT IF YOU WOULD LIKE TO JOIN. WE JUST STARTED OUR RED DEAD POSSE AND WITH MEN WE HAVE I THINK WE CAN GO FAR
Joining the posse
TO JOIN THE POSSES YOU MUST BE PRESTIGE 1 OR HIGHER NOT BE A SPRAYER WITH THE HIGH POWERED PISTOL. DON'T BE A SQUEAKER. MUST HAVE SOME KNOWLEDGE OF WHAT IS GOING ON. NEED TO BE ABLE TO USE THE SNIPER VERY WELL AND THE BUFFALO/BOLT ACTION RIFLE WELL. MAY USE ANY GUN EXCEPT HIGH POWERED PISTOL. MUST DRESS AS A US MARSHAL
Members
Leaders
Leader 1 USKF SNIPER
Leader 2 ePiC DSHOT
Leader 3 LTG NITRO
Other members
Member 1 Muntinous Radio
Member 2 WESTWARDSAFE313
Member 3 Muntinous TV
External links
Ad blocker interference detected!
Wikia is a free-to-use site that makes money from advertising. We have a modified experience for viewers using ad blockers

Wikia is not accessible if you've made further modifications. Remove the custom ad blocker rule(s) and the page will load as expected.