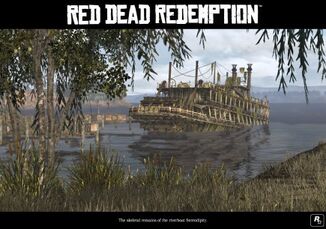 Un Jabalí is a Red Dead Redemption posse. 'Une Cab-er-lee'
About the posse
We are a small Posse based in The Wreck Of The Serendipity we have 3 members and at the moment wating for a request for a forth member.
Joining the posse
To join leave a message on my talk page or send a message on Xbox live (my gamertag is Coppyright 2010). BUT you must have a mic! When you are part of the posse you must be a Miscellaneous Criminal if you are not will send you a message and if you dont act we will kick you from the posse.
Members
Leaders
Other members
Coppyright 2011
MeritedCrab935
...feel free to join...
Trivia.
Our base is The Wreck of Serendipity because of a glitch that happend on the 23-12-10 when we went under the bank in blackwater and the title came up at the top of the screen yet we were still under the bank then the screen froze and we had to turn the xbox of.
Everyone in the posse is a Miscellaneous Criminal.
Our other Base is the Blackwater Bank but rarely use it.
Un Jabalí is Spanish for 'A Boar' which is the Animal that we Hunt.
List of Glitches Found By Un Jabalí.
| | |
| --- | --- |
| List of Glitch found | Date of glitch |
| Devil's Mule | 21-12-10 |
| A knife in Undead Overun | 21-12-10 |
| Blackwater Skydive | 23-12-10 |
| Serendipity Under Bank | 23-12-10 |
| | |
| | |
| | |
| | |
| | |
| | |
| | |
| | |
| | |
| | |
NOTE: More Glitches To Come.
Gallery of Glitches.
Ad blocker interference detected!
Wikia is a free-to-use site that makes money from advertising. We have a modified experience for viewers using ad blockers

Wikia is not accessible if you've made further modifications. Remove the custom ad blocker rule(s) and the page will load as expected.