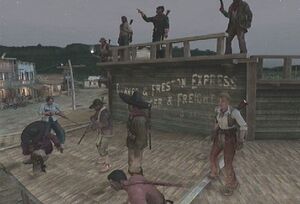 Undead Avengers is a Red Dead Redemption posse.
About the posse
The Undead Avengers are a newly formed posse that will start effectively on June 22nd, 2011. This posse is about clearing gang hideouts, racking up bounties, and playing many gang matches. With the name, leaders and founders are some sort of undead. Our hideouts are Sidewinder Gulch and Rathskiller Fork.
Joining the posse
In order to join, you must be a rank 20 or higher. We won't except anyone who likes to mess around a lot. No killing fellow posse members. It would be great if you would use your mic. That said, don't be annoying and a jerk to anybody
Members
Leaders
Fortune Auto (Founder)
KING DOLPHIN 13 (Co-founder)
Other members
Member 1
Member 2
Member 3 etc.
External links