Ad blocker interference detected!
Wikia is a free-to-use site that makes money from advertising. We have a modified experience for viewers using ad blockers

Wikia is not accessible if you've made further modifications. Remove the custom ad blocker rule(s) and the page will load as expected.
The Undead Outlaws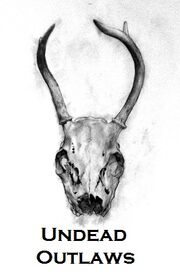 Motto
We don't die, we kill
About the gang
The Undead Outlaws Gang is a gang/posse that help each other and we rob people, banks and trains. We also play Gang matches, gang vs gang (clan matches). We do not kill each other, and we do not kill innocent people. We leave everyone alone if they leave us alone. We do attack if you attack us! We are a serious and proffesional gang. The Gang Leader (Dts95) will decide what character you are gonna be if you join the gang. We are using Playstation 3. We also have a own private forum: here
Joining the gang
You have to meet certain requirements before trying to join: - The Gang Leader (Dts95) will decide what kind of role you get in the gang. - The Gang Leader will decide what character you will be in the gang, and what kind of weapon you are gonna use.
If you want to join the gang contact Dts95 on PM at the forums or on PSN: Dts95 You will have to take a test before joining the gang.
==
Members Roster
Leader: Dts95
Co. leader: HAAKONRU_96
Members:
Rumpekjell
Bomb51TE
Events & Results
No matches yet