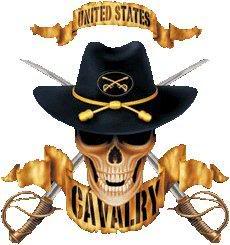 United States 7th Cavalry is a Red Dead Redemption posse.
About the posse
We are the United States 7th Cavalry. We fight mainly on horseback but when needed we will dismount. We are usually assisted by other players who are unofficially in the posse but are in the in-game posse temporarily. We love to kill dirty banditos and public enemies especially. We put a lot of time into our mission and we don't stop until the job is done.
Joining the posse
To join the posse you must first send me, FallenTitanX a message saying you wish to join. After that you will then need to pass initiation (which will be discussed when the time comes). After initiation we'll get you associated with the rest of the posse and you'll officially be a member.
Members
Leaders
Ad blocker interference detected!
Wikia is a free-to-use site that makes money from advertising. We have a modified experience for viewers using ad blockers

Wikia is not accessible if you've made further modifications. Remove the custom ad blocker rule(s) and the page will load as expected.