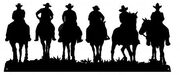 Vigilantes is a Red Dead Redemption posse.
About the posse
Vigilantes are citizens known for taking law into their own hands. This said you can be any red dead redemption character model as you please.This is my psn posse for vigilantes and lawmen.I allow all casual gamers because I don't favor angry cussing players. You must be able to play a few times a week and be comfortable in gang hideouts and other modes.You must be able to stand together to work and hunt targets as a group and should not be hypocrites and if you call out players be respectful if you lose. Events will be made such as manhunt and boxing matches you do not need a microphone but you will need to type fast on the psn because i dont want other players piggybacking on our events You must be as comfortable on sniper as you are on other rifles and revolvers
Joining the posse
If you want to join my posse advertise this to your friends and contact my psn account jzs_bullfrog.You will have to tell me how often you play and your other gaming activities and what dates you will available for events just contact me on my talk page this talk page or just contact my psn and leave your level on rdr (mine is 28 so far) so i can determine if you should be a co-leader
Members
jzs_bullfrog
Leaders
Leader 1 jzs_bullfrog
Leader 2
Other members
Member 1
Member 2
Member 3 etc.
External links
Ad blocker interference detected!
Wikia is a free-to-use site that makes money from advertising. We have a modified experience for viewers using ad blockers

Wikia is not accessible if you've made further modifications. Remove the custom ad blocker rule(s) and the page will load as expected.