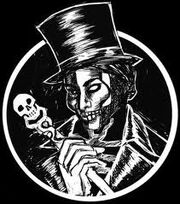 About the Mafia
We are just a family of Mature players of both sexes. If you mess with one of us, you will have to fight the rest of us. We range from Normal free Roam to Hardcore Free Roam to just plain ol' Hunting. We will do gang matches to the rest of the other matches.
Joining the Mafia
How to join is that you need to be either a African American character, Zombie or Native American. You will need to msg RealSrceech25 (creator & Godfather) on psn (Ps3) if you want to join the Family. To be a made man is that you have to go through a personal test that RealSrceech25 will tell you to do
Rules of the Mafia
1. Respect the man above you 2. Traitors will be sleeping with the fishes and be removed from the Family 3. Never attack unless attacked upon (PVP) 4. Attack everything that moves (PVE) 5. At least go on one hunting trip 6. Attend one family meeting 7. You must have a mic 8. You must be past the donkey levels (XP level) 9. No swearing unless you have to 10. When the highest rank official stand up from his position to start the Activities, everyone has to be quiet for he or she can explained the rules to new clanmates
Activities
Bull Boxing- two people fight with fist inside McFarland's cow pin while the bull charge them Rodeo- Where a number of people are inside the McFarland's cow pin and dodge the bull while it is charging at them, using a Tomahawk to roll out the way but DO NOT KILL THE BULL
Important info
Every Sunday RealSrceech25 will be offline because of personal reasons and if you have any questions contact him at 504-346-5309 but only on sunday all the other days msg him on psn
Important News
Recently Xx_Brutal-Kid_xX told me RealSrceech25 that his ps3 has the yellow ring so he will be out for a while
Members
RealSrceech25 Xx_Brutal-Kid_xX xX-ACLL-XX XxDead_inside-xX Cundill Bulldog2218 Agentvelazco KinGSwaT732 anash16 Photo_Komto
Leaders
Godfather: RealSrceech25
UnderBoss: Xx_Brutal-Kid_xX
Consigliere: xX-ACLL-XX
Capo: XxDead_inside-xX
Capo: Cundill
Capo: Bulldog2218
Capo: Agentvelazco
Other members
Solider: KinGSwaT732
Solider: anash_16
Solider: Photo_Komto
Solider:RedRidah
Solider:
Solider:
Solider:
Solider:
Solider:
Solider:
Solider:
Solider:
Solider:
Solider:
Solider:
The Voodoo Mafia's main website will be http://voodoomafia.webs.com/ check it out
Ad blocker interference detected!
Wikia is a free-to-use site that makes money from advertising. We have a modified experience for viewers using ad blockers

Wikia is not accessible if you've made further modifications. Remove the custom ad blocker rule(s) and the page will load as expected.