WTF? is a Red Dead Redemption posse.
About the posse:
WTF? ARE A CLAN OF ELITE WARRIORS, THEY ARE COMING AND WILL LEAVE NOBODY ALIVE... SO WATCH OUT!
Joining the posse:
If you're in the WTF? clan from previous games (i.e MW2, Uncharted 2) you are in the right spot! Just message one of the members on the list stating that you'd like to join! All you need is skill and precision, and you'll be just right for this posse! (PS3 Only)
Leaders
No leaders in WTF? They don't need any. Hehehe.
Members
Member 1 shosho1019
Member 2 Bosnian2660
Member 3 claytRSX
Member 4 atif1234 - Hired Killer
Member 5 asim-1234 - THE LEGEND
Member 6 Ruell006
Member 7 rudebwoyy22
Member 8 Bedes
Member 9 Notorioux
Member 10 BigA5150
Member 11 killman234567891
Member 12 andrewinatlanta
Member 13
Member 14
Member 15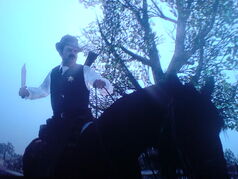 External links
Ad blocker interference detected!
Wikia is a free-to-use site that makes money from advertising. We have a modified experience for viewers using ad blockers

Wikia is not accessible if you've made further modifications. Remove the custom ad blocker rule(s) and the page will load as expected.