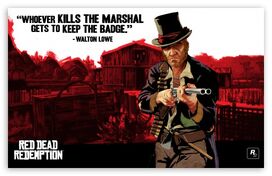 Walton's Clan is a Red Dead Redemption posse.
About the posse
Welcome to Walton's Clan now we are a X360 only group and we are contract killars and outlaws in the USA County and we murder civillians, rob banks and lots of more stuff. also got the backs of all clan members and help pull stuff off if a member is in trouble, BTW we also run away from the law and have clan wars with other outlaw groups or cop groups. interested in joining?. Now if youre asking about the name i yust changed it so it could be funny.
Joining the posse
Look me up in Red Dead Redemption on name is Darkeeel once you've found me i'll put you to do some activity if you pull it off your in. BTW youre going to need a mic and follow orders, every skin is alright but it wouldnt hurt if it was Walton's.
Members
Leaders
Other members
DomReaper
Krimennn
Member 3
External links