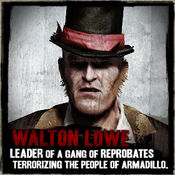 Walton's Gang is a Red Dead Redemption posse.
About the posse
Walton's Gang is a gang of outlaws led by me in Red Dead Redemption Multiplayer. We often stand out with our top hats and torn and tattered clothing with matching scarves. A lot of the time, my gang can be seen at the saloon in Armadillo, usually "drunk as a skunk". We have got two hideouts, both based in New Austin. We rule the Twin Rocks area, north of Armadillo.
Joining the posse
1.) Older than 12.
2.) Play as a Walton's Gang character in Multiplayer. (Not Tricky Pat Dempson)
3.) Have to be able to run Twin Rocks without dying.
4.) Be mature.
5.) Have to know how to kill.
6.) Have to have a level higher than 15.
7.) Have to message me on Xbox Live. (Mo Van Barr)
Members
Leaders
Mo Van Barr (Mo Van Barr on Xbox Live)
Link Huston (Link Huston on Xbox Live)
Other members
Member 1
Member 2
Member 3
Ad blocker interference detected!
Wikia is a free-to-use site that makes money from advertising. We have a modified experience for viewers using ad blockers

Wikia is not accessible if you've made further modifications. Remove the custom ad blocker rule(s) and the page will load as expected.