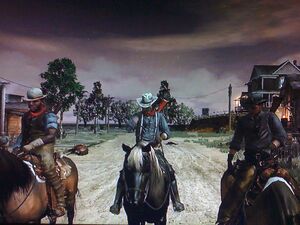 Western Border Outlaws is a Red Dead Redemption posse.
Info
The Kill All, End All Outlaws.
Becoming Part Of The Gang
There are Four Stages.
Stage 1. - Send a Friend Request to every member.
Stage 2. - Beat every Outlaw in a 1V1 Showdown
Stage 3. - Place 1st in a Gang-Verse-You race.
Stage 4. - Accept "Terms And Conditions"
- Kill Everyone that isnt your Friend.
- We Travel as One.
- Help if Requested.
The Gang
Head Honcho
The Outlaws
Bandito - Adarvia
Gringo - Saunderz__xD
External links