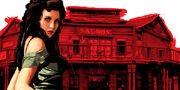 Rossco979 16:04, January 19, 2011 (UTC)Eric Larson
Whore Protection Club.
Dont be silly protect them and they will suck your willy. Males. where Ever We Want. Dont disobey the lader. &nbsp Dynamite kills Whores.
Semi Auto Shotgun,Tamahawk Le Mattt Revolver.

WE LOVE TO HAVE FUN, LEVEL UP IF NEEDED, AND MY FAVORIE ROLE PLAY.
about every night we role play and share storys. it is very fun but we already have the perfect number so we are not recruiting.
we all have met on xbox by chance besides one who i know in real life.
Dynamite kills whores. Now you know. And knowing is half the battle.
We have spanish names for our horses. Any charecter you want can be used
Ad blocker interference detected!
Wikia is a free-to-use site that makes money from advertising. We have a modified experience for viewers using ad blockers

Wikia is not accessible if you've made further modifications. Remove the custom ad blocker rule(s) and the page will load as expected.