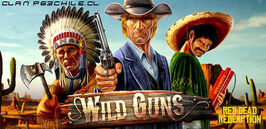 Wild Guns is a Red Dead Redemption posse.
About the posse
Chilean posse from www.playstation3chile.cl
Joining the posse
Must be chilean, log onto ps3chile.cl forums
Members
Leader
Other members
PatoPS
Paulfinchs
klenixx
hectorefz
Bonejoker
RLorenzini
OmiyagiLoL
cokaine
Polter2k
rodrigonba
Cristianmarcelo
External links
http://www.playstation3chile.cl/forumdisplay.php?174-Wild-Guns-(RDR)
http://www.playstation3chile.cl/showthread.php?22266-Clan-Wild-Guns-Reclutando
Ad blocker interference detected!
Wikia is a free-to-use site that makes money from advertising. We have a modified experience for viewers using ad blockers

Wikia is not accessible if you've made further modifications. Remove the custom ad blocker rule(s) and the page will load as expected.