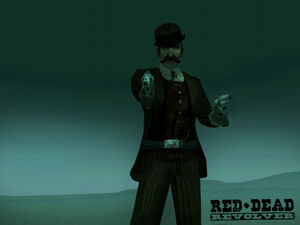 X8 Raiders is a Red Dead Redemption posse.
About the posse
We use any assortment of weapons, and are considered a hostile posse, we will attack on site, unless having joined posse/ party chat. We use discriminating force, and are considered to be ruthless and hostile towards any other players. If you are concerned about rep, our party is not right for you. We use whatever force nescessary. If you have any topics or questions email dolmad1@yahoo.com
Joining the posse
add Sevmarick, or AgentLemns to freinds list, and request on mike to join, limited space of 20 people, experienced players Required
Members
Leaders
Leader 1 AgentLemns
Leader 2 Sevmarick
Other members
Member 1 44Goldrunner93
Member 2 TomasDeCreed
Member 3 Druml1ne
K1LLAHMONK3Y
External links
dolmad1@yahoo.com
Ad blocker interference detected!
Wikia is a free-to-use site that makes money from advertising. We have a modified experience for viewers using ad blockers

Wikia is not accessible if you've made further modifications. Remove the custom ad blocker rule(s) and the page will load as expected.