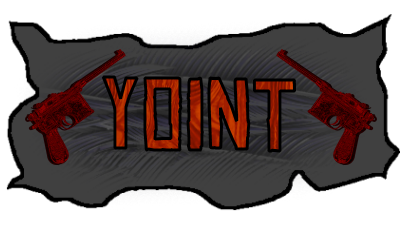 YOINT is a Red Dead Redemption posse.
About the posse
YOINT: Ye Olde Improved Network of Thieves.
---
A beginning posse on PSN.
Strives for teamwork and having fun. We help eachother complete challenges and stick together as a team.
But if one of our members gets killed, we will repeatedly hunt the culprit down.

For transport we mostly use horses, but sometimes we team up on wagons or stagecoaches.
We are frequently online in the evening at GMT+1 time.
Joining the posse
You can contact me on PSN if you want to join (see "Leaders").
Members
All of our current members are from Holland.
Leader
Dr_Kingma (Current level: Legend 2, 15)
Members
External links
Ad blocker interference detected!
Wikia is a free-to-use site that makes money from advertising. We have a modified experience for viewers using ad blockers

Wikia is not accessible if you've made further modifications. Remove the custom ad blocker rule(s) and the page will load as expected.