Ad blocker interference detected!
Wikia is a free-to-use site that makes money from advertising. We have a modified experience for viewers using ad blockers

Wikia is not accessible if you've made further modifications. Remove the custom ad blocker rule(s) and the page will load as expected.
thumb|300px|right|Challenge or Join
thumb|220px|left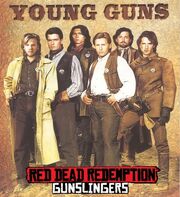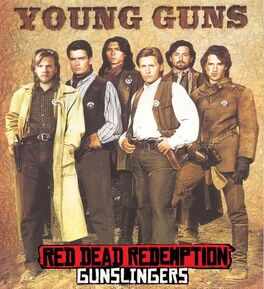 Young Guns is a Red Dead Redemption posse.
About the Gang
Based on real life posse The Lincoln County Regulators (from the movie Young Guns) was a deputized posse in Lincoln County, New Mexico during the Lincoln County War, consisting of a dozen or so members who wanted revenge for the killing of their boss, John Tunstall. The group was formed days after Tunstall's death, in February 1878, and would last for only five months until Alex McSween died in a siege on June 19, 1878.
Joining the Gang
Send a Text Message to "RickZamorano" in Xbox LIVE, and test yourself.
Or send me a e-mail: takkaruu@gmail.com
Visit our blog for closest information about us: http://younggunsposse.blogspot.com/
Young Gunners
Bosses
Gunslingers
Patricio W F
Paulo Marduk
KingALESSANDRO
oscarivelsal
easyriderbr
cratoce
Maggiorini
bulgaristi
GuilherX
AnimalPCC
GutoXB
Tiao do Leite
Paulo Vale
Gian B F
Sandrolino 74BR
Murcelo 74BR
I Snake Power I
TrsilvaBR
enzo bortoleto
Batista ZiKa
bplay BR
lucasgaboni54
ApolloArkadiano
External links (Robberies)
http://younggunsposse.blogspot.com/ http://www.orkut.com.br/Main#Community?cmm=106599988 http://en.wikipedia.org/wiki/Lincoln_County_Regulators