Featured Article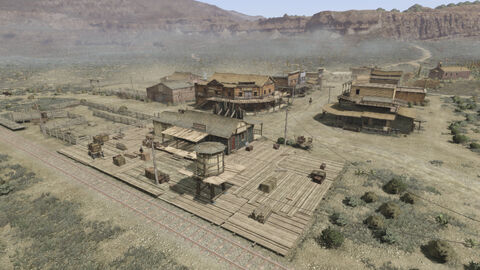 Armadillo is a settlement that features prominently in the opening act of Red Dead Redemption. The player first takes control of John Marston when he arrives in Armadillo after the opening cinematic. The town has a full set of amenities including a train station, general store, saloon, and safehouse. Games of poker and five finger fillet are available for wagering. In multiplayer, a variety of game modes are available in Armadillo, including Shootouts, Bag Games, Land Grab, and Stronghold.
Interviews
Wiki member Spawny0908 conducted interviews with three of the principal voice actors for Red Dead Redemption - check them out in the slider below. Unfortunately, Spawny passed away in 2012. Tributes to her can be found in this blog post.
Featured Media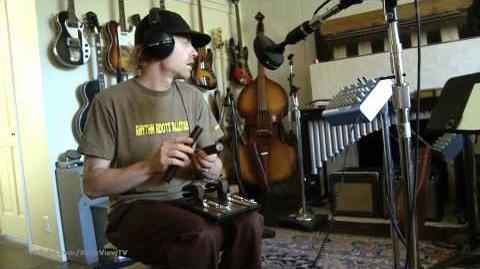 Affiliated Wikis

Third Person
Open World Games

Rockstar Games
Red Dead Wiki Poll
Discuss the poll • See past poll results
This month's poll is about locations in the Red Dead series. If you could live within the game worlds of Redemption or Revolver, what would be your choice of location?
Where would you live in Red Dead?
Rockstar is hosting another six-hour Social Club event covering all of their current games on Saturday May 25 from 12:00 - 18:00 EDT (17:00 - 23:00 BST). Unlike the previous such event where each game was played for about two hours, this time all five games will be played all six hours (in addition…

RDR is coming out on the PSN as a classic game. So, let's contribute for the Red Dead Revolver articles! Red Dead Revolver is very bare and thereof, lack of information to supply our fellow readers and editors in this wiki compared to the articles of Red Dead Redemption. I'm not forcing everyone to…

Rockstar Games announced today (link below) that Red Dead Revolver is now available for purchase as a downloadable "PS2 Classic" from the PlayStation Store, along with two other PS2-era Rockstar games (Bully and Midnight Club 3). Each title is $9.99 in the U.S. store. For those outside the U.S., check …

On Friday November 16 from 11:00 - 14:00 Eastern Time (11:00 AM - 2:00 PM), Rockstar is hosting a Social Club Multiplayer Event (follow the link for full details). Triple XP will be active throughout the weekend and the event will include both PSN and XBL users.




During the event, Social Club members…

Finally an event for Red Dead Remption .. ! JULY 27th - 2012 Red Dead Redemption - Game of the Year Multiplayer Event - 4_7PM ET

For all the best as we can connect to Red Dead online, as no events are as followed multiplayer.