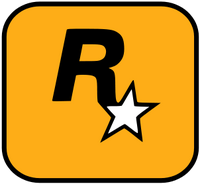 Rockstar Games (also known as R*) is a British video game publisher and a subsidiary of the American holding-company Take-Two Interactive.
The publisher is notable for its slew of open-world action-adventure and racing games, and is best known for developing and publishing the Grand Theft Auto, Red Dead, Midnight Club and Max Payne franchises.
Background
Edit
Rockstar Games was officially founded on December 1998, a successor to a dormant publisher Take-Two acquired beforehand called BMG Interactive. Founding members of the company include Dan and Sam Houser, who would go on to become the creative minds, producers and writers behind many of the Rockstar's key franchises, with Dan Houser also serving as a writer for 2010's Red Dead Redemption.
Since its establishment, Rockstar Games has either acquired or opened several development studios across the world, including Rockstar North (the publisher's biggest development studio), Rockstar San Diego (the direct developers of the Red Dead games), Rockstar Leeds, Rockstar Toronto and Rockstar London. The company has also opened an in-game engine development team called RAGE Technology Group.
Aside from its internal studios, Rockstar Games has also worked with several external developers and publishers, including Bungie, Capcom and Team Bondi.
In addition to aforementioned franchises and IPs, Rockstar Games has also developed and published the Smuggler's Run and Manhunt series, and the acclaimed Bully, L.A. Noire and The Warriors games.
Red Dead gamesEdit
Red Dead RevolverEdit
Red Dead Revolver was developed by Rockstar San Diego and published by Rockstar Games. It was released in the United States on May 4, 2004 and June 11, 2004 in Europe.
Red Dead RedemptionEdit
Red Dead Redemption was also developed by Rockstar San Diego and published by Rockstar Games. It was released May 18, 2010 in the United States and May 21, 2010 in Europe.
Red Dead Redemption IIEdit
Red Dead Redemption II was also developed by Rockstar San Diego and will be published by Rockstar Games. It is scheduled to release on October 26, 2018 worldwide.
Rockstar Games Social Club
Edit

Main article: Social Club
The Social Club is a free online community-based service provided by Rockstar to allow the players to compare stats and complete challenges. Completing certain challenges can lead to unlocking exclusive content only available through the Social Club.
External Links
Edit