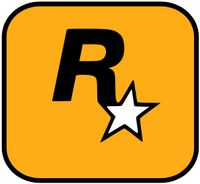 Rockstar Games (also known as R*) is a British video game developer and publisher with development studios and offices around the world. Rockstar publishes the Red Dead series of games.
Background
Edit
In addition to the Red Dead series, Rockstar Games has a number of very successful franchises including Grand Theft Auto, Midnight Club, and Max Payne. Rockstar's parent company is Take-Two Interactive.
Red Dead Redemption
Edit
Red Dead Redemption was developed by Rockstar San Diego studio and published by Rockstar Games. It was released May 18th in the United States and May 21st in Europe.
Rockstar Games Social Club
Edit

Main article: Social Club
The Social Club is a free online community-based service provided by Rockstar to allow the players to compare stats and complete challenges. Completing certain challenges can lead to unlocking exclusive content only available through the Social Club.
External Links
Edit