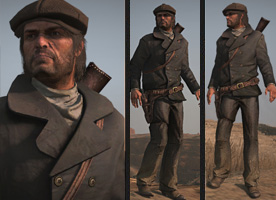 The Savvy Merchant Outfit is one of the outfits available in Red Dead Redemption alongside the Expert Hunter Outfit as part of the free Hunting and Trading Outfits Pack DLC or with the Game of the Year Edition.
Description
Edit
With this outfit, Marston wears a navy blue pea coat with a pair of black pants similar to those worn with the Elegant Suit. Marston's cowboy hat is replaced with a taupe beret.
Characteristics
Edit
While wearing this outfit, players will be able to buy all items from any gunsmith for half the cost. This bonus stacks with the high honor discount as well as any other discount bonuses. It does not increase the value of items that are sold and does not work at any shop other than the gunsmith.
Five scraps must be obtained by completing challenges before the outfit will be unlocked. The scraps can be obtained in any order.
Tips & Tricks
Edit
This outfit was a candidate in a vote for pre-order bonuses along with the Expert Hunter Outfit but was beaten by the Deadly Assassin Outfit by a landslide. As such it was originally unobtainable in the game.
Rockstar released an unfinished version of the DLC for PS3 on September 1 in Europe and on the September 2 in other countries except for the United States. This version was reported to be untested and full of bugs. Rockstar recommends to anyone who downloaded this version to delete it and replace it with the final version, which came out on October 12.
In some missions, if you are wearing the outfit, sometimes, the first cutscene of a mission won't play. Rockstar has not decided to fix this yet.
Related Content
Edit
Related Content for Savvy Merchant Outfit

Wiki Content
External Content
The links above will perform a search for the content that matches this page's name.