Hey there, cowboy. This article looks a little bit small.
I reckon you could impress me by contributing to it. Don't be shy now.


Shady Belle is a location in Red Dead Redemption 2. It serves as the camp's location during Chapter Four of the game.
Description
It is a large colonial house surrounded by swamps and alligator infested waters to the east. The house itself is rather large, with four large pillars at the front, two chimneys at either side of the mansion and a fountain outside. The property is abandoned and therefore dilapidated. Large vines crawl up the walls of the house, the water fountain is empty and the rooms are dirty and destroyed.
Around the back side of the property is a small dock and cottage, where Leopold Strauss usually loiters.
Location
It is located in Bayou Nwa, Lemoyne. It is situated East of Braithwaite Manor, southwest of the city Saint Denis, on the north coast of the Lannahechee River. Just east of the property are sections of marshes, with alligators inhabiting the area.
Interactions
In the mission "Preaching Forgiveness as He Went", Arthur and Lenny raid the house, where they obtain large amounts of dynamite and weapons.
The property is next encountered in the mission "The Battle of Shady Belle", where Arthur and John kill the remaining of the Lemoyne Raiders who inhabit the house. The two remove the bodies from the mansion, dumping them in the swamp waters surrounding the house.
Soon thereafter, the rest of the Van der Linde gang arrive at the house and begin unpacking and setting up their tents.
Shady Belle becomes the site of a large firefight between the Van der Linde gang and the O'Driscoll gang after the latter captures and kills Kieran Duffy.
Soon after the Saint Denis fiasco, the gang packs up and moves north, fearing Pinkerton reprisal. Clues are then left around the camp in case Arthur or Dutch make it back home.
After the Van der Linde gang departs from Shady Belle, the Lemoyne Raiders move back in and the location becomes a Gang Hideout that occasionally can be cleared for loot.
Notes
On one of the crates on the bridge leading to the mansion is Valerian Root.
On the back porch of the mansion is the Cigarette Card for Dynamite - 1866 - Alfred Nobel.
At the shack to the southeast of the mansion is a lockbox containing Aged Pirate Rum and money.
A lock-box containing a large jewelry bag and money can be found in the mausoleum to the east.
Throughout the eastern areas, including the island to the southeast, can be found Ghost Orchid, Clamshell Orchid, and Gator Eggs.
Gallery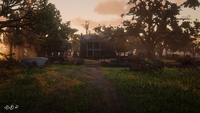 Related Content
Related Content for Shady Belle

Wiki Content
External Content
The links above will perform a search for the content that matches this page's name.