The Tudisco Kid
Talk

1
1,878pages on
this wiki
{{User/characterbox |name = The Tudisco Kid |image =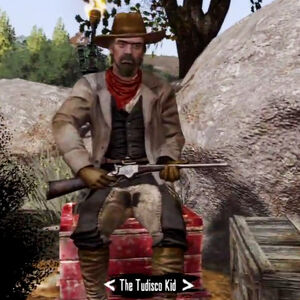 |gender = Male |affiliations = Cattle Rustlers
Fucking cunt
"Hey! Yeah, you!"
"Go to hell!"
"Time to die!"
"You gonna die!"
"I'm looking for a little she-wolf to spook the sheep with, hehe..."
"I come off all snuffy when I'm looking at you, darlin'."
"So, you a real cowbunny or just some live dictionary comin' to civilize us?"
"You got a real smooth mouth sweetie - real smooth!"
"You want me to install windows in your skull?"
Hey there, cowboy. It looks like this little ol' article is a bit puny.
I reckon you could impress me by adding to it. Don't be shy now.
If you're logged in, it'll help you earn them fancy achievements, too.