Title Update 1.05 was released October 23, 2010 for the Xbox 360 and PlayStation 3 versions of Red Dead Redemption. This automatic update was deployed in preparation for the release of the Undead Nightmare DLC.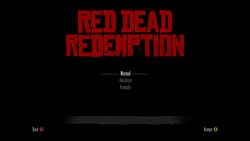 Changes and fixes
Friendly Free Roam now available for those that wish to play with player-vs-player killing disabled
Markers added in Free Roam in preparation for the Land Grab game mode, which is available with installation of the Undead Nightmare DLC
Fix for issues with Days Passed being reset
Fix for players griefing by voting each other out of the game in Poker and Liar's Dice
Permanent client-side unlock for Redemption and Damnation multiplayer characters (can use them on System Link without Internet connection)
Poker and Grand Prix Leaderboards fixed to correct information displayed
Menu option added upon startup in single player to choose between Red Dead Redemption and Undead Nightmare
Menu option added upon selecting Online Multiplayer to choose between Normal, Hardcore, and Friendly Free Roam modes
Fix for gang disguise bug on the Deadly Assasins, Expert Hunter and Savvy Merchant outfits.
Ad blocker interference detected!
Wikia is a free-to-use site that makes money from advertising. We have a modified experience for viewers using ad blockers

Wikia is not accessible if you've made further modifications. Remove the custom ad blocker rule(s) and the page will load as expected.