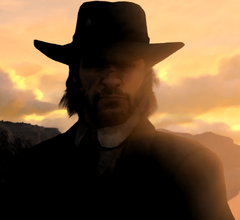 Activity
So far I've been wandering on RDR multiplayer recently both in Friendly and Normal Free Roam. I'll be on Undead Overrun and Co-op missions occasionally. User: Blaff 60 and PSN user.
About me
Blaff 60
| | |
| --- | --- |
| 17 | This user is 17 years old. |
I am Blaff 60 and I'm here in the Wikia for 4 years, which I started back in 2008. I am also a member of GTA wiki and Manhunt/Manhunt 2 wiki, which all has 1500+ edits. I am also an avid video game addict, mostly my favorites are GTA series, Manhunt series and Red Dead Revolver.
Objectives
During my past days here in this wikia, my objective is to deliver correct and supply information to fellow editors and readers, keep the wikia tidy and well-managed and proper guidance to templates and other importance, which I kept up until now.
To-do list
To-do list
* Complete:
 * Horse Infobox
 * Animal Infobox 
 * Useful templates
* Change first person to third-person pronouns
* Move incorrect page names
* Move scattered pictures to galleries
* Remove stubs from missions
* Add Horse and Mount with infoboxes
* Add Red Dead Redemption/infobox to Red Dead Redemption
* Adding categories in pictures to corresponding category(ies)
* Clean up of Categories esp. Stubs
* Making mission dialogues and its structures
* Changing Polls from time to time (month to month)
* Characters (CapLet) edits