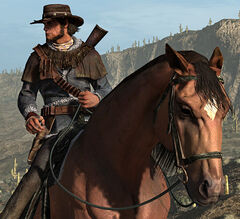 "
Lets be honest, I play RDR just because I am a psychopathic, sadistic gamer who takes joy of killing AI controlled characters. :P
"
–Me to Mitch, on Chat.
Hi guys, my name is Ilan xd, but you can call me Ilan (EE-LAN, not LA-AN). I am basically a nice person who will help you if you need me! ;)
"
You cannot know anything. Only suspect. You must expect to be wrong, to have overlooked something.
"
I am a big fan of Rockstar Games, and most of the company's games, with GTA Vice City, San Andreas IV, Red Dead Redemption and Max Payne taking the first spot.
I enjoy several other games too! Including Uncharted and Assassin's Creed mostly.
Here, you can often find me on chat. If you can't catch me up on chat, send a message, or ask another Admin. :D
What the hell are doing here?
Credit for War Clown for making such poll!
What is your favorite game in the Red Dead series?
Red Dead Favorites
Edit
Redemption
Edit
To do list
Edit
Writing personalities for RDR characters.
Other things :/
Userboxes (not sure why I did a section for that? LOL)
Edit
Ilan

(the first letter is "i")

| | | |
| --- | --- | --- |
| " | I fear no man. But that... thing... it scares me. | " |
| | ~ Heavy Weapon Guy, TF2. | |

Hello guys, and girls, and whatever you are :D
My name is Ilan, and I am from Israel. I am an active user since June 2011.

I am a long-time fan of Rockstar Games, as you can that I'm mostly editing at Wikis that are 'bout Rockstar's title: Max Payne, Red Dead, L.A. Noire, and GTA (duh!). Other games that I like: Assassin's Creed, Metal Gear, Uncharted, Bioshock, Half-life, etc.

You can see me at various Wikis, expanding articles, cleaning some mess, visiting some friends, or just trolling around.

XD

Rockstar Games Wiki • GTA Wiki • Red Dead Wiki • Red Dead Answers • L.A. Noire Wiki • Max Payne Wiki • Uncharted Wiki • The Last of Us Wiki • Agent Wiki • Gangstar Wiki • Many other Wikis