A new feature, Facebook Connect, has just been enabled on the Red Dead Wiki. You are now able to edit from your Facebook account! See Help:Facebook Connect for more information.
What is Facebook Connect?
Facebook Connect is a tool used to both create an account and log into Wikia during your existing Facebook account.
It helps speed up the account creation process on Wikia by allowing you to use your Facebook account. You will not have to create a new password or confirm you account. You just create a username and get started!
How do I sign up for Wikia with Facebook Connect?
Click the Log in link on the upper right. You will be given the following screen:
Click on the top log in button (which is blue and has the Facebook logo). This will prompt another pop-up to appear: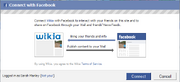 Click connect, and you will be prompted to a screen to confirm that you want to connect your Facebook and Wikia accounts.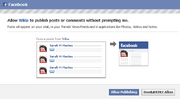 Your accounts are now connected!
For all future log ins to Wikia:

If you are already logged into Facebook, you can simply click on the Log in link, then Facebook Connect log in and will be automatically logged into Wikia.
If you are not logged into Facebook, when you click Log in and Facebook Connect, you will be prompted to log into your Facebook account. You will not need to enter your Wikia username. Once you enter your Facebook login information, it will automatically load your Wikia account.
Account settings and privacy
Account passwords are stored with Facebook not on Wikia. If you lose or alter your password, please contact Facebook.
You can alter what information can be shared through Facebook Connect to your Facebook News Feed by visit you preferences, and the Facebook Connect tab.
Future plans
You will be able to share your edits, uploads and favorite wiki links automatically to your Facebook news feed.
Ad blocker interference detected!
Wikia is a free-to-use site that makes money from advertising. We have a modified experience for viewers using ad blockers

Wikia is not accessible if you've made further modifications. Remove the custom ad blocker rule(s) and the page will load as expected.