Thanks to everyone that participated in our back-to-back Red Dead Redemption: Undead Nightmare events held a few days before Halloween on Thursday, October 28th on PlayStation Network and on Friday, October 29th on Xbox LIVE - whether you were playing with us in-game, watching the live video stream or discussing the action in the chat.
The team from Rockstar San Diego joined in both days to give players an opportunity to both play with the game creators and discuss all that is Undead Nightmare and Red Dead Redemption. Special shout to Social Club member killinyou78 who summed it up nicely in the event comments:
"I had a great time. I got to play with 2 RedDeadDevs and they both added me on PSN! It was so cool to get insider info and tips, and secrets behind how this sound was made and why this is here. It was a fan's dream."
Cheers! Read on for a recap of some of the rounds played over both days, as well as screens from just a few memorable moments of zombie busting and land grabbing.
We began the PSN event by starting up Undead Overrun with four players in 'Dead Man Walking' in Blackwater. During wave 14, RedDeadDev3 gathered zombies in one open area by throwing bait, and then threw Holy Water directly in the center of the crowd. Lightning strikes came down from all around, killing a good bundle of the undead. RedDeadDev3's 20 kill combo was enough to get the meter near halfway full, but with the clock at 30 seconds, there wasn't enough time left to progress to the next wave. In Sudden Death, RedContraGuy was the first to fall, followed by RedDeadDev3 and then Blazin_G420.
From there, Bling_Boy09, guitardude161, RedDeadDev3 and RedDeadDev4 all initiated Undead Django in Sepulcro. The four made it up to wave 16 before they got overwhelmed by a swarm of zombies. Sudden Death began, and using the fence-like area around the ruins, RedDeadDev3 and RedDeadDev4 stayed alive the longest. While they ultimately came to an untimely end at the hands of the living dead - a valiant effort was made by all.
We also got in a few intense games of Land Grab in Free Roam as well as some other multiplayer modes by fan request. After playing for an extended hour to make up for some early technical difficulties during a PSN maintenance window, our next event was less than 24 hours away...
Beginning the following afternoon on Xbox LIVE, we rounded up a bunch of players for Land Grab in Blackwater. RedDeadDev3 formed a posse with RedDeadDev4, and Social Club event fixtures GVRafioso1 and GermanScientist. Making their way around town, RedDeadDev3 started the posse's reign by putting a bullet in NICKSORTINO's back. Moments later, LoganWulf claimed The Blackwater Alley right before inconveniently finding RedDeadDev3's stick of dynamite by his left foot, giving RedDeadDev3 control. Players participating in this Land Grab session included NICKSORTINO, SFX 6669, JAHALOGAMER, quique9666, Logan Wulf, vTwisted x, RedDeadDev3, RedDeadDev4, GermanScientist, GVRafioso1, CYPRESS44, MaxStuHor, Ludo xb360, x JA23 x, HaydnSturman99 and xxSAMxx88.
Then it was time to see how many waves deep we could get in Undead Overrun - while the folks in the event page Chatterbox rooted and talked trash with color commentary all along. A not too shabby wave 26 is the highest we were able to get during either event - and as some of you may have read the chat, the best record for Rockstar players is wave 40. Scubasteve590, JamieGreat360, DrCheezybanana and RedDeadDev3 all worked together to get to wave 26, and all fell during Sudden Death at around the same moment. Final total scores were more than $200,000. Props to all of you.
Thereafter by fan request, we headed into a round of races in Grand Prix Horse Racing from the Liars and Cheats Pack (and the forthcoming Undead Nightmare disc release) in the N. Johns Invitational. Players included RedDeadDev3, WILZZONN X, X Mck iMaGicz X, IRONSAM96, Rad McAwesome, Doctor Of Sound, SerenadelsDead and Wesleyyyy. On the Tall Trees Trail, RedDeadDev3 equipped his shotgun and blew the head off SerenadelsDead - which sort of interfered with his race time. But far ahead was Doctor of Sound, crossing the finish line first. Congrats to you and to IRONSAM96 for pulling in top honors in the second race: Rio Run.
After more matches in Undead Overrun, Stronghold, Grand Prix and more, we ended things in Free Roam, running around Armadillo chucking Dynamite and Tomahawks at each other, and even some last licks of Land Grab in the saloon. An awesome way as always to end an events session chock full of zombies, explosions, races, bullets, gambling and mayhem...
Check out some screenshots from a few great moments: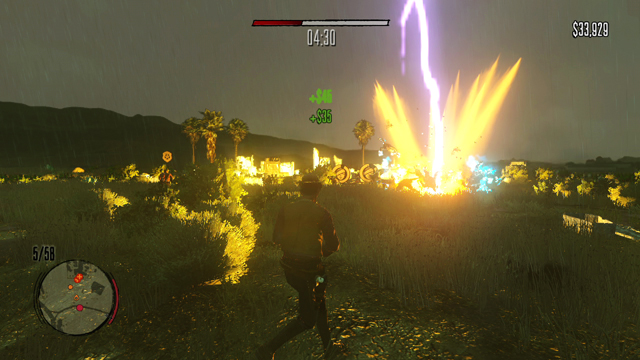 (Holy Water rains down multiple lightning strikes on a horde after they gathered near Undead Bait...)
(RedDeadDev3 throws Undead Bait to buy some time and then goes for a coffin in Tumbleweed.)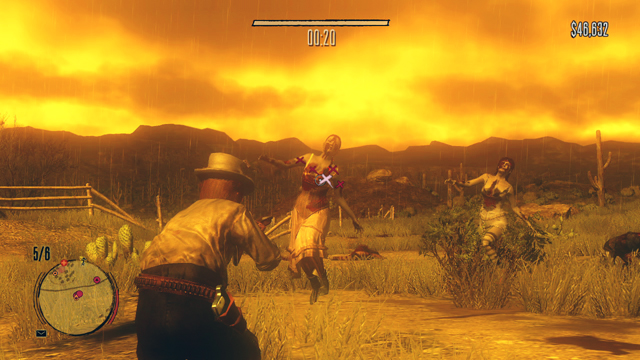 (RedDeadDev3 paints a charging zombie with Dead Eye.)
And here's a big roll call of all participants we spotted, apologies to anyone that we may have accidentally omitted:
12BLACKHAND
2ben67
_8-ball_
9084db
Abary109
ABO3nze
acidburn66
ADDICT_Grimm
afrakes
ahetFIN
ajmb123
AlChrism
Alex-ander96
AlexGhost
Alolo91
andrebeaver
Andrew Hartger
Andyxbx
Ant0ni00x
Arczix
aridframlos666
asbgigio
Astex09
Atraeus
avis115
awesomehenrik
Azjolnerub
BackFixers
badcompanymaster
bazza852
beast__
BeetleComet
Bejar7
benj67
Bflame7
bhell13
bigbrilcc
bigyin1
Birdie_94
Blaizer2
Blazin_G420
BleedingShock
Bling_Boy09
Bloodshed769
BobRighter
bodo.kinepa
BonesJones
BoyO664
BrandiBeNicole
brannie009
Brazzknuckless
Bremmer72
british_goon
BrratOnEM
Bryce Ede
BuckinAwesome
budsmoker666
BXUNDERGROUND
Cairine
Calamaricash
Caligro
Cancuino
CaptainOsmBear
cAptiankAos09
CaptNink
Carl1977
Carver59
cbsurfer96
ch90ch
ChazAttack
chicagofarker
CHILLYwi11y
Chino189
Choza97
chrislovespills
chuychuy
Cloud4K
Codithou14
COGS22
CoLDSuNdeR
COLT SIVERS
Columbonew
CounselorFoyle
CrazyCooling07
CrazyCrok
crazyuk
cyclone1591
CynicalDemon
CYPRESS44
D-MAN2819
DamionJeremiah
damir012
Dangeresque92
danielhalomods96
DANK6700
Darapalooza
DARIO_TGDA
Dark-Angel66
Dark Red Soul
darksniper65
DayWalkerCJ
Dbzcool1412
DeadHeadKilla
DEADMASON6
deadpool13000000
DeafAtheist
deankilledbill
DeathBat95
Deionmccoy
demitrim
DemSeatle
dennisb407
DerImperiator
DEVestate
devinusa
Diablorama
dicapo
diggFURIOUS
DigitalSorrow
DIIXONZzz
dindras
DingoSuavez42
djbill_622028
DJX99X
DnB JUNGy
Doctor Of Sound
doradorey
doseeg
DougNasty
dovbak
Dr.Cheezybanana
dr.rayan
Dr_Gonzo1971
DSRGames
Duke3355
dukes100
dunkenberry
dwarfing
ease123123
echuruguochi
EedyRLegend
EliteRs
EllexLanaz
ElPerroLoco

Emperor333
emvipee23
ericswolfmeyer
erolkesk145
Exxtazyx
falco545
fanny batter 81
Fantastic_Mr_Cat
Faustin19
Felder1989
felipe_golden
FiftyBlackiller
fil69fil69
Floppay
FordMNX
Frankie8420
FreakyTERRY1
Fred Camping
Frulond
FrylockKilla
FugetSudo
FugetSudo_Jr
fullbabs
gam3fr3ak93
Game_Warrior
gangstaroleg
Gavonator
Geewhy
GermanScientist
GeronimoGman
ghostx1984
GlenGr
GM-Shenmue
gman33
Godfather1957
Golden Monkey 2
goldmll
gotstyle
grandtheft_23369
GRASSYLK
gregory59
GTAJoanmafi
gtamees
GTArocksRDRsucks
guigus62
guitardude161
GuitarHero_Dude
HaydnSturman99
hayhay144
HeadHunterPaiN
HecTiC_HertzZ
Helper_for_games
HockeyFreak70
hogsy16
hoolahoop75
HoSKinsBoBish
HRQ360
Huang88300
Husaria
hyper2for
HyperMonkey
iamGangstaNigga
iamtruck
I bAnNi I sNipE
iced_m
iggywire
IGORNAZZI
IIMRSOPRANOII
iIReZz
iNathanM
IRasta
irinel1996
iR Luigi x
IRONSAM96
iSimon
itouchroland
Izzojackal
IWHGYD07
J-Bar-C
JA2332AJ
JAHALOGAMER
jaky2008
Jambobullet
JamieGreat360
Jarpasmannen
Javiac18
JC9999
Jebus_420
JeCk020
JediFatty69
JeffRivera
jenss1983
jeremydaboss
JetPilot5381
jey585
Jgrannis
jhdez91
JHFOX13
JimBoSS77
JjKemble
joelsonxx
JoeTheDevil1983
johnk112
john oconor
John_TheIrishman
Jonsku1
JOSERIOS1998
justbusiness13
Justin1382
kaelto28
Katzeh
Kaysade
KDawg50
kevin_hc9
Key1neStreet
KgNRich
KibblesMcGee
KikeDeKi
Killazz45
killerder1
killlinyou78
king353
KINGLEON94
Kingodoom
KingstonO
KirillianPanda
kish08
KittyCatMeowBird
kKumGetSumxXx
knal boys
kolombo91
konzolfan
KyozoKicks
ladysman140
Laggin_hitman
Laggykiller
LaGuanache500
lakotahs
Laurenzzz_B
LavelltheElite
laynpipe22
lebgdu66
LeoMindfreak08
leoron95

leo_1_e_99
likeabluespider
lilweasel
linux731
lliguicota123
Logan Wulf
Lord_Loren94
LOUIS SHINES
Ludo xb360
LuisFernandoLope
L_harry
Maccyjam
MACPAC69
macrom67
mads-the-great
MAHIEDDINE
MAKAVELI
manuxgta
marabe
mariocarrion
mario_1603
marney1
Marnit
marrccus
marsie47
Marston-
marstonSlayer
martin.1978
masterchidos
matdabro93
MatouNoir
McGeesboss
MCKing
MeBattyBoy
MegaRayGun
mehmetlito
-Mentality-
MetalBoxFan
Metalligod666
MICKELE1986
Mika78300
mike1082latino
mills69
Mindless JJ
Mirko_GTA
misterherms
mitzi08
momma000
mooch208
morzsafateruk
mowgely
mrnips17
murdokk22
muscelcar
mw2gamer113
n2vdubz
NashIsKing
NationalKato
nerfingsmurf
neveroutguned
NICKSORTINO
nickygw
NikoBellicIre
nikoinlc
nilsen31
njanthrax
northen_cail_209
nosebreaker
Nostradamus74
nufcrules1
NVMisfit
o0bubblesaurus0o
oBIGMONSTERo
olinvilleboy
OLLIE CRUMBLE
oly1kenobi
omegashenron27
oOmLeSs66
OrIGInalPyRO
ORPHAN-FOUR
ovterminus
owningreddead
Patt0r
Pattington_Bear
PaulMendez
Pelethare
Pepito_Pockitos
peytonPanda
Phil Osyfee
PhilOsyfee
PhoenixFizzle
pierre78
PIKILO
PlaThSongOfDead
PlayDude77
Popseye
posila
PSPbrunoGTA
psymonjet
pts1985
PuppyOnAcid
Pwnchex
quique9666
QUIQUE9666
RabidMonkey303
Rad McAwesome
Rafioso
Rajinikanth
ranapazza
Ranger_CRM
razaobrera99
ReadDeadfan12349
Rebel_Raven
Reccetear
Red-Dead.fr
RedContraGuy
RedDead-Assasin
RedDeadJamaican
RedDeadKip
RedFox450
redhat86
redmist218
Reflexje
Ricky3986
ridesbikes
Rkid007
rocker08rocker08
RockStrPetty23
rokstarfrancais
Rollaw
RosalyBueno
RosZzo
RoyalLegend_King
RoyalTiredJump
royraylan
RubMarston
Ruth Madoff
RyAn2402
saadhassan18
Safari_Kitty
SalvatoreRusso
sam619fan
sambal87
samgeorgeoleary

SamHain19
Samozer
scareface1970
ScottishSNP
scubasteve590
SC__202531
SecretAgentE
Sed8ed
Sensimillia85
SerenadelsDead
sergio_fr
Serpent72
SFX6669
shai0141
ShaolinGaillimh
Shawn8Lampard
shin27
shotudown3366
Shtick
sicario_R
sickjustin
Signus16
silentstrike452
silvericeage
silversun_111
sirsillybumfluff
sjake321
sjkwjqwhd
skbakk
SkintCollins
skommonster
Slamboni
slamthepanda21
Slingblade986
SmellTheMagic
smuger
Sniffeli
SPAWNBAG
SPILIOS_RED
sserschens
SSM3EVO
st0nedpizzas
stevenquesada09
stingray1980
stonalchemist
Studios 5107
SublimeLabs
Swadorgk
swazman5597
Symba31
T0nyG0uNd
Tahooper
talbot21
TAVOBLACKWALLIN
Teapotmc
Techno769
Tezzeret
tfun
TFUNFB
TheBloodElf
TheElectricWorm
TheForceOfChaos
TheInternetMan
thelostmember
themastergames
themegakiller
TheOnlyEpicWolf
therealtreefitty
thewarriorhunter
thewowbeginsnow
The_Infection
THE_REAL_BBANKS_
Tigroupepette
tikiGOD82
Timmy96ish
tmoyniha
TN60o1
tomcat_vf41
tonygound
Tony_dize
toolsra
toro228
touchwoodboatman
ToXiic Banana
TR1PPY1992
tregregins
trevellie333
Trigga_Tybalt
triplo89
tsrtrevor
Turd_Ferguson1
tweedz877
twisdalejake
Two6s
Ub3rMesa
Ultimatom Dark
undertaker2142
Vault-tec9
venom20000
vergonio22
Vilhash
vince_123
vince_42069
vito197666
WaMpAgEcrackson
WAR_MACHINE_95
Wesleyyyy
wikime123
WILZZONN X
WolFMaNGr
WolfRogers
wtjmdah
Wyse505
X--GUNSMOKE--X
xanto1066
xAsian-Zombie
x BLACK APACHE
xEmm28
x JA23 x
xK0oKieM0NstERx
X Mck iMaGicz X
Xo lil tom oX
xOSx xFoCheuZx
xStOnEhEaDx
Xtal_UNIX
xTemplarKnightx
xx COLOCHO xx
xxenomorphium
xxSAMxx88
XxsargexX17
xX WAZZAP Xx
XxWolfheartxX
xxXXSibbiXXxx
xxxXXXMadXXXxxx
ZachDYEE
Zachhhyy
Zarie840
zchret
ZFM123
Zidder571
zock212
zombi3killa123
zombieslayer79
zzevvss
Our next live streaming multiplayer event will be for Red Dead Redemption on Xbox LIVE this coming Thursday November 11th - we'll be on from 4-7PM to play Undead Nightmare, some other DLC multiplayer modes and even some of the original Red Dead playlist options by request. Stay tuned for more details next week and check the full calendar of events for all future opportunities to get in on a game with Rockstar.
Also, make sure to follow us closely on Twitter and Facebook so you can join us at a moment's notice...
Ad blocker interference detected!
Wikia is a free-to-use site that makes money from advertising. We have a modified experience for viewers using ad blockers

Wikia is not accessible if you've made further modifications. Remove the custom ad blocker rule(s) and the page will load as expected.