Hi all, I have a problem with the texture of "Robert the bobcat" I do not know exactly what is.
Textures
Models
I think it's the third or fifth but I still have doubts. This picture is not very well
Edit: In this picture, I can see black and white lines very marked on the face of the animal. Texture could be the number 3.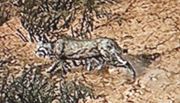 Ad blocker interference detected!
Wikia is a free-to-use site that makes money from advertising. We have a modified experience for viewers using ad blockers

Wikia is not accessible if you've made further modifications. Remove the custom ad blocker rule(s) and the page will load as expected.