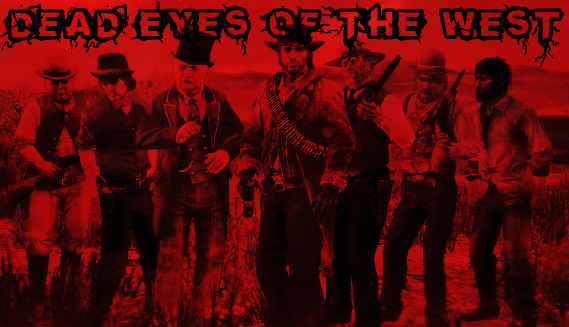 You have found the Dead Eyes of the West's home blog. Here we will talk about enemy posses, in-game events, or anything else that needs to be heard. Please to find out how to sign up etc.
RULES AND CONDITIONS
1. Must be (at or) OVER level 15 in order to join
2. Must not consecutively swear, if swearing is absolutely needed.
3. Please have a mic, if you do not include it in your application.
4. Do not verbally attack other members (and mean it), doing so may result in warning or ban.
5. Be on RDR Multiplayer at least three times a week, if not able to do so please give a heads up in advance.
6. Have fun!
OTHER POSSES
Allies
==
Enemies
BOUNTIES
Bounties will be assigned on players who have done serious wrong to a member. Please talk to me if you have a suggestion for a name to be below. If a member kills somebody with a bounty and has proof, each kill will award that player with EXP. Please scroll down to "EXP" to see what this is.
The money values represent how much the person is wanted and how much EXP the bountyhunter will get each kill.
$100
==
$200
==
$300
==
$400
==
$500
==
$600+
EXP
EXP is what gets you through your ranks. Doing certain tasks and winning events can earn you EXP. The ranks are listed below
Greenhorn
You are a newbie to Dead Eyes of the West, but are still respected
Officer
You are slightly honored, but can do better.
Deputy
You hear your name mentioned around town, but not too often
Sheriff
You are a highly respected member of Dead Eyes to the West
Outlaw
You are a legendary villian, people will cower before you
Events and Tasks
Events and tasks can be won (or completed) to give you EXP, and just to have fun. Events may include things like Races, Posse Battles, Fist Fights, etc. but must be official in order to gain EXP. Tasks may include "Win a 1v3", "Head shot him from afar", etc. but also must be official in order for EXP. I must witness you peform a task in order to gain credit for it.
Current tasks:
None listed
Current events:
None listed
MistahSnipah
Leader
Infinite
Zero (0)
He's nice lolol
1. Username 2. Rank 3. EXP 4. EXP to next rank 5. Reputation
WHITE_BOLT
Greenhorn
0
One Thousand (1,000)
Not Applicable
Ad blocker interference detected!
Wikia is a free-to-use site that makes money from advertising. We have a modified experience for viewers using ad blockers

Wikia is not accessible if you've made further modifications. Remove the custom ad blocker rule(s) and the page will load as expected.