Rockstar has just announced double XP from now until January 2, 2012. BUT on the weekends between Dec 24-25 to Dec 31- Jan 1 XP gets bumped up to TRIPLE!! So if you're trying to become a legend jump online!
(Unrelated game note): Again if you're trying to get the "Story Teller" achievement in Batman: Arkham City don't forget to talk to Calender Man on Christmas Day AND New Years Day!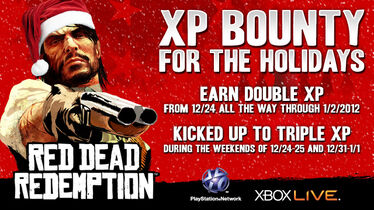 Happy Hoildays all!
Spawny
Ad blocker interference detected!
Wikia is a free-to-use site that makes money from advertising. We have a modified experience for viewers using ad blockers

Wikia is not accessible if you've made further modifications. Remove the custom ad blocker rule(s) and the page will load as expected.