Hey there, cowboy. This article looks a little bit small.
I reckon you could impress me by contributing to it. Don't be shy now.


Van Horn Trading Post is a location in Red Dead Redemption 2. It lies to the east in Roanoke Ridge on the shores of the Lannahechee River and south of Annesburg.
Amenities
Saloon: It is possible to play Blackjack inside while one also can play Five Finger Fillet behind the building itself
Stable: situated on the outskirts of the settlement, near the northern coastline
Stagecoach
Notes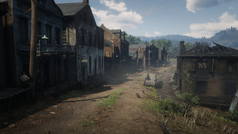 If you commit a crime at Van Horn, instead of getting the usual Lawman/Bounty Hunters, the people of Van Horn will all start shooting at you. They will shoot you from all angles.
Van Horn is the location of the Legendary Fish, Legendary Muskie. Use Special River Lure to fish for this and take it to the post office to send to Gill
To the northwest of the stagecoach is an abandoned train station. On a bench is the Cigarette Card for Telegraph - 1837 - Samuel Morse.
A shack can be found northwest of the train station. On the west side of the shack is a table that has the Cigarette Card for Hummingbird Sage.
Due west of the saloon is an abandoned house across the railroad tracks and a trail. On the east porch is the Cigarette Card for Louis Durand; the Manmade Mutant can be found here as well.
To the southwest of the abandoned house is the Serpent Mound.
Across from the Post Office in town sits a barrel in a backyard. On the barrel is the Cigarette Card for Jennie Willetts.
A burned-out sheriff's office can be found to the east of where players can engage in Five Finger Filet. On the mantle upstairs is the Cigarette Card for the Turkey.
To the southeast, a schooner is docked at the pier. Under the hammock at the top of the boat is the Cigarette Card for the Schooner.
South of the schooner is a lighthouse. At the base of the lighthouse in the bushes is Aged Pirate Rum. The Legendary Muskie can also be fished nearby.
To the southwest of the Post is a structure with a balcony. On a crate on the northeast end of the balcony is the Cigarette Card for Slick Hutton.
Related Content
Related Content for Van Horn Trading Post

Wiki Content
External Content
The links above will perform a search for the content that matches this page's name.