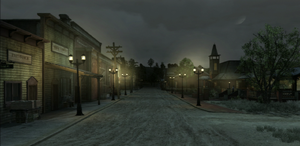 Wapiti Avenue is a street in the city of Blackwater, featured in Red Dead Redemption in the Great Plains region of the West Elizabeth territory.
Description
Wapiti consists of a single dirt road with lamps, telephone lines, and businesses. The street intersects Van Horn and Tallulah.
Events of Red Dead Redemption
The Stranger side-mission, Remember My Family, begins here at the Blackwater Train Station.
Events of Undead Nightmare
Phase three of the mission, Curious Tales from Blackwater, starts here.
Amenities
Pay Bounty
Blackwater Train Station
Businesses
Blacksmithing
Eldon Woodcock Proprietor (Furniture)
J. Junius Bros. Liquor & Wine
I.A. Delacourt Painter & Decorator
Freight
Train Depot
Blackwater Station
Exchange
Mining Supplies
Felix Publishing & Immigration Co.
Automobile Service Station
Real Estate Insurance
United States Post Office and Northeastern Telegraph Company
Notable People
Activities
Multiplayer
Trivia
Wapiti is also another name for an Elk.
Gallery
Ad blocker interference detected!
Wikia is a free-to-use site that makes money from advertising. We have a modified experience for viewers using ad blockers

Wikia is not accessible if you've made further modifications. Remove the custom ad blocker rule(s) and the page will load as expected.