Wolves, Dogs and Sons
Talk

0
1,883pages on
this wiki
Hold it right there, outlaw!
This article is littered with

spoilers

, so I reckon you might ought'a mosey on down the road if you don't want to read any plot details.
Wolves, Dogs and Sons is a mission in Red Dead Redemption.
To view the mission tree, see:
Main article: Missions in Redemption/Tree
Wolves have been attacking the cattle in the ranch, and John brings Jack and Rufus along to scare the wolves away.
Walkthrough
Edit
Mission Objectives
Edit
To complete this mission, the player must:
Follow Rufus to the wolf pack and kill all of the wolves.
Follow Rufus to a second wolf pack and kill all of the wolves.
Ride back to Beecher's Hope.
Mission Details
Edit
Mount your horse and follow Rufus into Tall Trees or Tanner's Reach. Eventually the dog will find a pack of wolves. Shoot them all before moving on to the next pack.
After killing all the wolves, it's time to head back to the farm.
Mission Dialogues
Edit
Main article: Wolves, Dogs and Sons/dialogues
Mission Failure
Edit
The mission will fail if the player:
Kills his own or Jack's horse.
Loses sight of Rufus.
Does not kill all of the wolves.
Strays too far from the mission location.
Breaks the law.
Kills a dog.
Commits vandalism.
Assaults or kills townsfolk.
Dies.
In the opening cutscene, when Jack is practicing with the rifle, John gives him advice on how to improve his aim by telling him not to stiffen his back "because it'll make the gun jump". Which is the same advice given to John by Landon Ricketts in the mission "The Gunslinger's Tragedy".
this mission has the most glitches in the dialouge in the whole game there is 6 different blocks of dialouge. 4 on the way to the first wolves 1 on the way to the next and 1 on the way home. sometimes when leaving the ranch it wont start the dialouge at all other times skipping to the second or third or forth blocks right off the bat. the third block (where jack asks about johns father)is almost always cut real short when john says rufus is on to something. then after the first wolves the second pair almost always pops up immediately thus skipping the convo when going to the second pack by following the dog. the final block (on the way home) never messed up 4 me in about a hundred tries so if u get that far count ur lucky stars and save it. i never got the full dialouge in 1 mission so good luck.
Video Walkthrough
Edit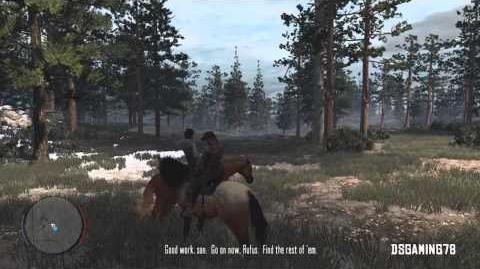 Achievement
Edit
Completing this mission contributes toward the following Trophy/Achievement:
100

Gold

Attain 100% List in the singleplayer game completion list.